链接
GeneTrans 基因传递试剂
特性
· 多种细胞系中的高转染效率
· 许多难以转染的细胞系效果良好
· 性价比高,使用方便
· 配合 Jurkat 细胞时效率最佳
· 寡核苷酸转染的理想之选
描述
· GeneTrans 转染试剂已被开发用于多种细胞类型的高效转染。还可在许多已知的难以转染的细胞系中实现良好的转染效率
· GeneTrans 转染试剂利用由脂质转染发明人开发的专属直接亲水性缀合 (DHC) 技术。与其他商用的转染试剂相比,GeneTrans 含有一种理想的调整混合物(其中含有不同修饰的阳离子脂质)。优化脂质/DNA 复合物的组装,显著降低细胞毒性。这确保了稳定和瞬时转染的结果高效且可重复。此外,细胞损伤的显著减少和培养基变化的消除使 GeneTrans 转染试剂成为所有基因表达研究的理想试剂,在这些研究中,其中最佳基因传递和细胞转染后状态都很重要。此外,它们已被证明是寡核苷酸转染和转染特殊细胞系(如 Jurkat 细胞)的理想选择。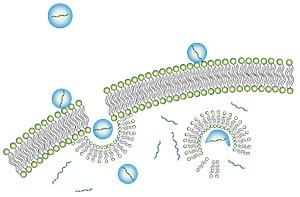 GeneTrans-介导的 DNA
进入细胞。
GeneTrans II 转染试剂
特性
· 优化的转染效率
· 对于难以转染的细胞,结果得到大大改善
· 寡核苷酸转染的理想之选
· 无培养基变化——有无血清均可方便地进行转染
· 用于蛋白质表达的细胞系具有可靠的可重复结果
· 适用于悬浮细胞和贴壁细胞
· 最小的细胞毒性
· 适用体外和体内转染
· 具有许多不同细胞系的优异且可重复的性能
描述
· GeneTrans II 转染试剂是基因传递技术的一大进步,基于明显改进的配方,可进一步增强 DNA 的稳定性,减少在转染过程中血清成分的干扰。它首先能够更有效地稳定和保护 DNA,其次,促进其核吸收进入细胞,使 GeneTrans II 成为一款高效的传递工具。另外,用 GeneTrans II 配方生产的脂质体与血清组分的相互作用较低,因此特别适用于含血清的培养基。它包括优化的组件和缓冲液,可以通过众所周知的难以转染的细胞系(如 HeLa,K-562 和 PC-12)实现卓越的转染效率。
· GeneTrans II 是高通量筛选和蛋白质表达应用的理想选择,与其他业界领先的转染试剂相比具有明显的优势。GeneTrans II 提供两种稀释剂(DNA 稀释剂 A 和 DNA 稀释剂 B),使您可以更灵活地优化所选细胞系的核酸转染。
· GeneTrans II 配备了优化特定细胞系转染条件所需的一切,包括方便的 GeneTrans II 干燥脂质膜,水合缓冲液(0.75 ml 或 1.5 ml)和两种DNA稀释剂(A 和 B):4 ml 或 8 ml)。为了方便您的使用,我们提供了一套针对最常用的细胞系测试优化转染条件的试验方案。通过遵循本综合手册中的简单步骤,您可以期望最佳的转染结果。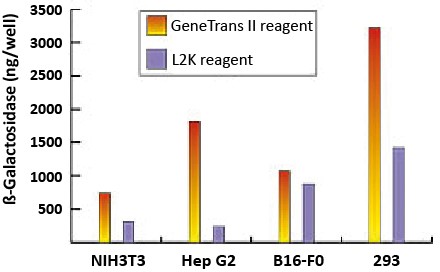 GeneTrans II 转染试剂与领先试剂 L2K 的比较。
| | | | | |
| --- | --- | --- | --- | --- |
| 订单号 | 描述 | 数量 | 价格 | 数据表 |
| | GeneTrans II 转染试剂 | 75 次反应 (0.75ml) | | |
| | GeneTrans II 转染试剂 | 150 次反应 (1.5ml) | | |
| | GeneTrans II 转染试剂 | 750 次反应 (5 x 1.5ml) | | |
| | GeneTrans II QuickEase 试剂盒 | 96 个一次性小瓶 | | |
·
· Agoston Z, Heine P, Brill MS, Grebbin BM, Hau AC, Kallenborn-Gerhardt W, Schramm J, Götz M, and Schulte D. Meis2 is a Pax6 co-factor in neurogenesis and dopaminergic periglomerular fate specification in the adult olfactory bulb.Development.2014 Jan;141(1):28-38.
· Daher J, Martin M, Rousseau A, Nuyens V, Kazan HF, Van Antwerpen P, Courbebaisse G, Martiat P, Badran B, Dequiedt F, Boudjeltia KZ, and Vanhamme L. Myeloperoxidase Oxidized LDL Interferes with Endothelial Cell Motility through miR-22 and Heme Oxygenase 1 Induction:Possible Involvement in Reendothelialization of Vascular Injuries Hindawi Publishing Corporation, Mediators of Inflammation, Volume 2014, Article ID 134635, 14 pages
· Grassmann F, Schoenberger PGA, Brandl C, Schick T, Hasler D, et al. A Circulating MicroRNA Profile Is Associated with Late-Stage Neovascular Age-Related Macular Degeneration.PLoS ONE, 2014 9(9): e107461.
· Spinnenhirn V, Farhan H, Basler M, Aichem A, Canaan A, Groettrup M. The ubiquitin-like modifier FAT10 decorates autophagy-targeted Salmonella and contributes to Salmonella resistance in mice J. Cell Sci., Nov 2014; 127:4883 - 4893.
· Guo L, Xu J, Qi J, Zhang L, Wang J, Liang J, Qian N, Zhou H, Wei L, Deng L. MicroRNA-17-92a upregulation by estrogen leads to Bim targeting and inhibition of osteoblast apoptosis J. Cell Sci., Feb 2013; 126:978 - 988.
· Boeckel JN, Guarani V, Koyanagi M, Roexe T, Lengeling A, Schermuly RT, Gellert P, Braun T, Zeiher A, Dimmeler S. Jumonji domain-containing protein 6 (Jmjd6) is required for angiogenic sprouting and regulates splicing of VEGF-receptor 1 PNAS, Feb 2011; 108:3276 - 3281.
· Froese N, Kattih B, Breitbart A, Grund A, Geffers R, Molkentin JD, Kispert A, Wollert KC, Drexler H, Heineke J. GATA6 Promotes Angiogenic Function and Survival in Endothelial Cells by Suppression of Autocrine Transforming Growth Factor ß/Activin Receptor-like Kinase 5 Signaling J. Biol.Chem., Feb 2011; 286:5680 - 5690.
· Kaluza D, Kroll J, Gesierich S, Yao TP, Boon RA, Hergenreider E, Tjwa M, Rössig L, Seto E, Augustin HG, Zeiher AM, Dimmeler S, Urbich C. Class IIb HDAC6 regulates endothelial cell migration and angiogenesis by deacetylation of cortactin EMBO J., Oct 2011; 30:4142 - 4156.
· Carmona G, Göttig S, Orlandi A, Scheele J, Bäuerle T, Jugold M, Kiessling F, Henschler R, Zeiher AM, Dimmeler S, Chavakis E. Role of the small GTPase Rap1 for integrin activity regulation in endothelial cells and angiogenesis Blood, Jan 2009; 113:488 - 497
· Phng LK, Potente M, Leslie JD, Babbage J, Nyqvist D, Lobov I, Ondr JK, Rao S, Lang RA, Thurston G, Gerhardt H. Nrarp Coordinates Endothelial Notch and Wnt Signaling to Control Vessel Density in Angiogenesis Dev.Cell, Vol 16, 1, Jan 2009; 70–82.
· Schröder K, Kohnen A, Aicher A, Liehn EA, Büchse T, Stein S, Weber C, Dimmeler S, Brandes RP.NADPH Oxidase Nox2 Is Required for Hypoxia-Induced Mobilization of Endothelial Progenitor Cells Circ.Res.2009;105;537-544.
· Urbich C, Rössig L, Kaluza D, Potente M, Boeckel JN, Knau A, Diehl F, Geng JG,Hofmann WK, M. Zeiher AM, Dimmeler S. HDAC5 is a repressor of angiogenesis and determines the angiogenic gene expression pattern of endothelial cells Blood, May 2009; 113:5669 - 5679.
· Martin M, Potente M, Janssens V, Vertommen D, Twizere JC, Rider MH, Goris J, Dimmeler S, Kettmann R, Dequiedt F Protein phosphatase 2A controls the activity of histone deacetylase 7 during T cell apoptosis and angiogenesis PNAS, Mar 2008; 105:4727 - 4732.
· Michaelis UR, Xia N, Barbosa-Sicard E, Falck JR, Fleming I Role of Cytochrome P450 2C Epoxygenases in Hypoxia-Induced Cell Migration and Angiogenesis in Retinal Endothelial Cells Invest.Ophthalmol.Vis.Sci., Mar 2008; 49:1242 - 1247.
· Webler AC, Michaelis UR, Popp R, Barbosa-Sicard E, Murugan A, Falck JR, Fisslthaler B, Fleming I. Epoxyeicosatrienoic acids are part of the VEGF-activated signaling cascade leading to angiogenesis.Am J Physiol Cell Physiol.2008 Nov;295(5):C1292-301
· Webler AC, Popp R, Korff T, Michaelis UR, Urbich C, Busse R, and Fleming I. Cytochrome P450 2C9-Induced Angiogenesis Is Dependent on EphB4 Arterioscler Thromb Vasc Biol, Jun 2008; 28:1123 - 1129.
· Diehl F, Rössig L, Zeiher AM, Dimmeler S, Urbich C The histone methyltransferase MLL is an upstream regulator of endothelial-cell sprout formation Blood, Feb 2007; 109:1472 - 1478.
· Kuehbacher A, Urbich C, Zeiher AM, Dimmeler S. Role of Dicer and Drosha for Endothelial MicroRNA Expression and Angiogenesis Circ.Res., Jul 2007; 101:59 - 68.
· Potente M, Ghaeni L, Baldessari D, Mostoslavsky R, Rossig L, Dequiedt F, Haendeler J, Mione M, Dejana E, Alt FW, Zeiher AM, Dimmeler S. SIRT1 controls endothelial angiogenic functions during vascular growth Genes & Dev., Oct 2007; 21:2644 - 2658.
· Fleming I, Fisslthaler B, Dixit M, Busse R. Role of PECAM-1 in the shear-stress-induced activation of Akt and the endothelial nitric oxide synthase (eNOS) in endothelial cells J. Cell Sci., Sep 2005; 118:4103 - 4111.
· Michaelis UR, Fisslthaler B, Barbosa-Sicard E, Falck JR, Fleming I, Busse R Cytochrome P450 epoxygenases 2C8 and 2C9 are implicated in hypoxia-induced endothelial cell migration and angiogenesis J. Cell Sci., Dec 2005; 118:5489 - 5498.
· Bruhl T, Urbich C, Aicher D, Acker-Palmer A, Zeiher AM, Dimmeler S Homeobox A9 Transcriptionally Regulates the EphB4 Receptor to Modulate Endothelial Cell Migration and Tube Formation Circ.Res., Apr 2004; 94:743 - 751.
· Brühl T, Heeschen C, Aicher A, Jadidi AS, Haendeler J, Hoffmann J, Schneider MD, Zeiher AM, Dimmeler S, Rössig L. p21Cip1 Levels Differentially Regulate Turnover of Mature Endothelial Cells, Endothelial Progenitor Cells, and In Vivo Neovascularization Circ.Res., Mar 2004; 94:686 - 692.
· Dernbach E, Urbich C, Brandes RP, Hofmann WK, Zeiher AM, and Dimmeler S. Antioxidative stress–associated genes in circulating progenitor cells: evidence for enhanced resistance against oxidative stress Blood, Dec 2004; 104:3591 - 3597.
北京毕特博生物技术有限责任公司
http://www.bitebo.com
400热线:400-833-9299
电话:010-82015225
传真:010-62015131
联系人:张钰
手机:13366202681
QQ:1050524889